Annika Gustafsson
Annika Gustafsson is a Swedish freelance filmcritic/journalist writing for the daily newspaper Sydsvenskan in Malmö and the film magazine Filmrutan. After graduating from Journalist college in Göteborg 1966 she studied sociology and film and theatre science at the University of Lund. In 1970 she was employed by Sydsvenskan and work at the newspaper until her retirement in 2009. Annika Gustafsson has served on several Fipresci juries at different international festivals and also at the jury for the International Documentary Film Festival in Thessaloniki.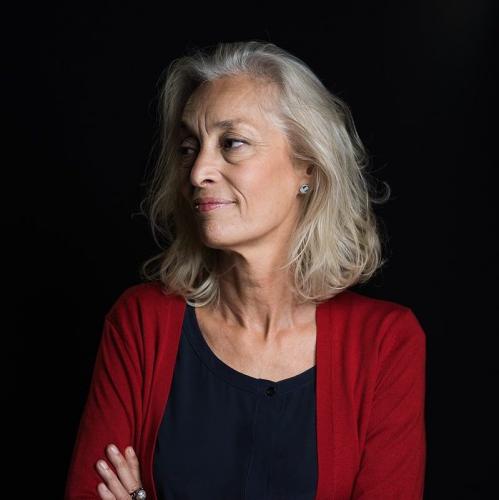 Dora Bouchoucha
Dora Bouchoucha has been a film producer since 1994. She has produced and co-produced several award-winning documentaries, short and feature films. Bouchoucha founded the Carthage Film Festival Projects' Workshop in 1992 and Takmil in 2014, as well as the Sud Ecriture workshops in 1997, which she has been running since. Bouchoucha is actively involved in promoting Southern cinema. She has held several positions in juries and selection boards of major film festivals, and served as head of Carthage Film Festival in 2008, 2010 and 2014. 
She has been decorated by the Tunisian Republic with the highest rank of Grand Officer of the Republic twice, and was awarded the Tahar Haddad Award for Best Ambassador of Tunisian culture. In Cannes 2015, she was named Commander of Arts and Letters by the French Minister of Culture. She received a career achievement award at Gouna Film Festival in Egypt and at Med Film Festival in Rome in 2018. Bouchoucha was artistic director of Manarat, Mediterranean festival in Tunisia in 2018 and 2019.
Rasmus Brendstrup
Rasmus Brendstrup (b. 1975) is a programmer at the Cinematheque of Copenhagen and since 2015 in charge of the film festival Arabian Nights. He holds an MA in Modern Culture, gives lectures, and writes freelance articles, particularly on non-Western cinemas and filmmakers.
Insaf Ouhiba
She is a researcher in film studies and a programmer. She has taught at the Higher Documentation Institute of Tunis (ISD) and at the Economics and Political Science Department of the University of Cairo (FESP). She is currently a lecturer at the Sorbonne Nouvelle University. Her main areas of research are cinematographic heritage, censorship, and woman cinema. She coordinated panels on cinema and was a jury member of several festivals.
Koutaiba Al-Janabi
Koutaiba Al-Janabi was born in Baghdad, studied photography and cinematography in Budapest, and wrote his Ph.D. on the aesthetics of Arabic cinema. Al-Janabi worked as a producer and director for television companies, and directed and produced short films, documentaries, and won awards as a cinematographer and director. His first feature film as a director and producer, "Leaving Baghdad", won first prize in Dubai, as well as a British Independent Film Award, was nominated for the Cinema for Peace Award in Berlin, and was screened at the Museum of Modern Art in New York.
"Stories of Passers Through", a feature documentary completed over the course of 30 years, won the Best Experimental Film Award at the London Independent Motion Picture Awards and has been screened at the Institute of Contemporary Art and the British Film Institute in London and at various film festivals worldwide.
His feature film "The Woodman", in postproduction, received post-production funding from the Cairo Film Connection and the Doha Film Fund. His feature film "Where are you Boutros" is in pre-production. Al-Janabi is also an accomplished photographer, with his work exhibited and published widely.
Mohamed Zineddaine
Mohamed Zineddaine left his native Morocco in 1983 to study in France. After a year, he relocated to Italy, where he stayed in several cities before he finally settled in Bologna, where he forged his instruments as a craftsman in the fields of photography, screenwriting, directing, and production.
Since 2013, he teaches scenario writing in Bologna. Since 2017, he collaborates with MEDITALENT as a scenario teacher, in the countries around the Mediterranean.