Photocopy
Egypt / 2017/ Arabic dialogue with English subtitles / 95 min
Mahmoud's life is a 'photocopy' of millions of others. He worked as a data-entry typist in the same government job, never married ,he lives a traditional life. When he settles for early retirement, he buys a nearby Storefront and sets up: "Mahmoud's photocopy." Here, he makes photocopies and types up documents. One day, a student asks him to type up a report on the extinction of dinosaurs. Mahmoud can't help but begin to see some strange parallels with the state of his own life. Driven by a desire to change the depressing reality that his own lifestyle is becoming extinct, he starts a journey that leads him to revolt against his traditional life.
---
CAST & CREDITS
Director: Tamer Ashry
Writer: Haitham Dabbour
Cast: Mahmoud Hemeda, Sherine
Reda, Aly Eltayeb, Ahmed Dash
DOP: Mohamed Abdel Raouf
Producer: Safei Eldin Mahmoud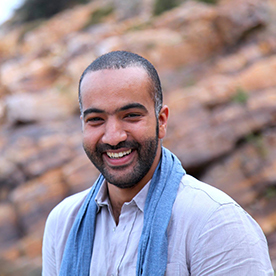 Tamer Ashry is a director, producer, script-writer, and cinematographer. He is the founder and CEO of BEE Media, one of the leading production companies in Egypt. His work has been screened at numerous international film festivals addressing issues such as sexual harassment, state violence and the daily life in Palestine. He has collaborated with the UN to create award-winning campaigns for human rights, gender equality and child abuse. Photocopy is his first fictional feature film.