Iraq I 2016 l Arabic dialogue with English subtitles l 76 min
---
SYNOPSIS
Troubled widower Essa makes a pilgrimage from Basra to the holy city of Karbala in a bid to find a miracle that will cure his daughter Maryam of her terminal cancer. The pair hitch rides from strangers and cross paths with fellow pilgrims – all searching for their own miracles. As millions of pilgrims march towards Karbala, Maryam and Essa are separated. Haunted by secrets from the past and unbeknown to the little girl, Essa has purposely abandoned her. When hearing news of a terrorist attack near to where he left Maryam, Essa's conscience is stirred and as Maryam's illness worsens, it's a race against time for father and daughter to reunite.
CAST & CREDITS
Director: Atea Al Daradji
Writer: Atea Al Daradji
Cast: Asaad Abdul Majeed, Hassan Jbara , Mohamed Rhaif , Shahad Atia , Fuad Hanoun
DOP: Duraid Al-Munajim
Producer: Atea Al Daradji
SCREENINGS
OCTOBER 8 18.00, PANORA 1
---
---
---
 Director Atea Al Daradji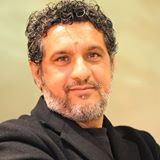 Atia Jbara Al- Daradji is a producer and director. He established Iraq Al Rafidain Company for movie production in 2004. In 2011 he directed his first documentary film (In My Mother's Arms). The film discussed the suffering of orphans in Iraq, and
participated in more than 50 international festival gaining 18 awards including best film award in the Korean International
Festival.