Malmö Arab Film Festival kicks off with Tunisian film "Look at Me"
Malmo – 4 October 2019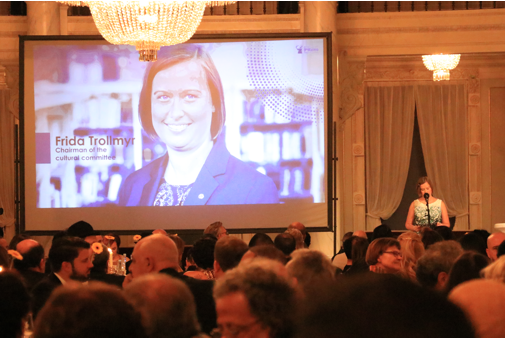 The 9th edition of Malmö Arab Film Festival (MAFF) kicked off Friday evening (October 4th) in the Swedish city of Malmö, with a large presence of Arab stars, directors and film professionals.
On the opening red carpet, which was held in front of the historic Malmö Municipality building, the festival's guests, including Egyptian stars Shereen Reda, Asser Yassin and Mona Hala, Palestinian director Mai Masri, Tunisian director Najib Belkadi and others, were welcomed by the Mayor of Malmo Carina Nilsson at a dinner at the Royal Hall. She expressed the city's pride with the festival which can give the best picture of the cultural diversity of the city that hosts dozens of nationalities, languages ​​and cultures. Frida Trollmyr, chairman of the city Cultural Committee, also spoke about the festival, which has become one of the most important events on the city's calendar.
The festival's founder and president, Mouhamad Keblawi, welcomed the guests and delivered a speech in which he expressed his delight at the successful steps taken by the festival, which has become the largest festival of Arab cinema held outside the Arab world with more than 150 guests this year. MAFF took also steps on supporting Arab cinema through launching MAFF Market Forum fund, and through the distribution of Arab films in Swedish theatres.
The ceremony also witnessed handing the guest of honour tribute to Tunisian cinema, with a shield received by Karima Amirat, representative of the Tunisian National Centre of Cinema and Image (CNCI), as well as a tribute to the name of the late producer Nejib Ayed, director of Carthage Film Festival, received by Lamia Guiga, artistic director of Carthage Festival.
After the dinner, guests moved to Panora Cinema, whose two halls were joined to showcase the opening film "Look at Me" by Tunisian director Nejib Belkadhi, whose presented his film to Malmö audience with enthusiasm for the film's first screening in Sweden, after a successful journey made since the film premiere last year in Toronto, then participated in many international festivals.
The audience interacted positively with the film in which star Nidhal Saadi embodies the role of a Tunisian man who returns from France, having to look after his autistic son, struggling to find a way to communicate with a child of a special nature.
The 9th Malmö Arab Film Festival will run from October 4th to 8th, and will feature 48 films – 26 feature and 22 short films – as the largest platform for Arabic films outside the Arab world. The festival also continues its efforts to expand the screening of Arab films in the Nordic countries, by parallel screenings of 12 films in the city of Helsingborg, in addition to 17 films screened in the Danish capital Copenhagen.