Malmö Arab Film Festival Kicks Off Amid Health Measures and Wide Virtual Attendance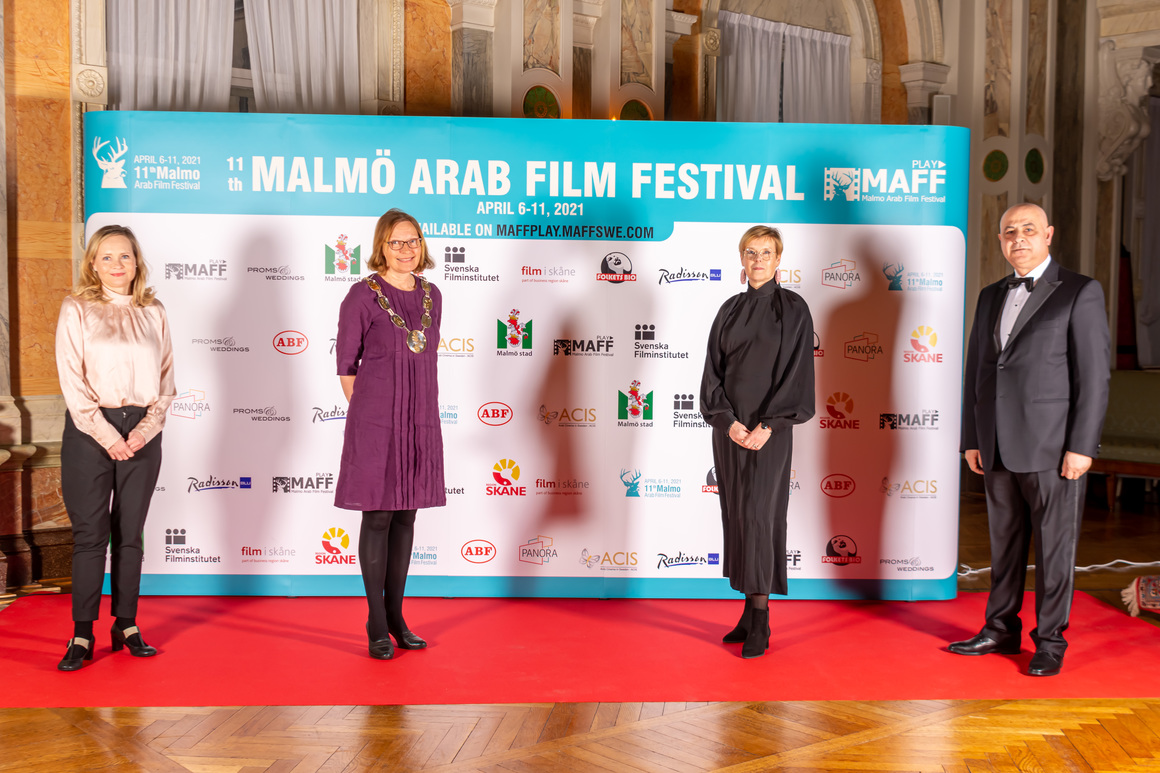 Malmo – April 6, 2021
Malmö Arab Film Festival (MAFF) kicked off its 11th edition officially on Tuesday evening, with a ceremony held at the Malmö municipality building (Radhuset) amidst strict health measures, with wide virtual participation on the festival streaming platform (MAFF Play) and accounts on Social Media.
The ceremony was limited to a simple red carpet inside the building, followed by the official speeches started by the Mayor of Malmö Karina Nelson, who welcomed the guests, shedding light on how the festival expresses the face of the young city that brings together 350 thousand residents, most of them under the age of 45. Assuring that Malmo is a young, multicultural city, open to the vibrant projects like Malmö Arab Film Festival.
This was followed by the speeches of Frida Trollmyr, Chair of the Malmö city Culture Committee, Gitte Wille, Director of the Culture Office in the province of Skåne, Pernilla Conde Hellman, Director of the Culture Office in the city of Malmö, then Magnus Lunderquist, Chair of the Skåne province Culture Committee. Most of the words revolved around the importance of the festival and the value of holding it in the difficult health conditions that the whole world is currently going through.
Then, the founder and president of the festival, Mouhammad Keblawi, delivered his speech in which he spoke about the challenges of holding two editions of the festival during a short period in which the world faces the threat of a pandemic, explaining the importance of the new MAFF Play platform that the festival launched to broadcast all the festival's films and activities, in parallel with the physical screenings in Panora cinema with a limited number of the seats according to the decisions of the Swedish health institutions. Keblawi expressed his hope that life returns to normal and that the 2022 edition of MAFF would bring filmmakers and film enthusiasts from around the world together in Malmö again.
The ceremony was followed by the screening of the opening film "The Man Who Sold His Skin" by Tunisian director Kaouther Ben Hania in the three screens of the Panora Cinema, with only eight attendees in each hall, in conjunction with the launch of the film on the festival's electronic platform, and a virtual discussion with the film stars Yahya Mahayni, Dea Liane and Saad Lostan And Marc de Panda, moderated by the Egyptian critic Ahmed Shawky.
On Wednesday, April 7, the festival's activities will continue with a group of film screenings including "200 Meters" by Palestinian director Amin Nayfeh and "We Are from There" by Lebanese director Wissam Tanios. Malmö Industry Days, the festival program targeting film professionals, will also be launched, with a group of specialized professional seminars, in addition to pitching sessions of feature fiction and documentary film projects in the development stage.