FACTORY GIRL
Egypten, Förenade Arabemiraten / 2013 / Arabisk dialog med svensk text / 92 minuter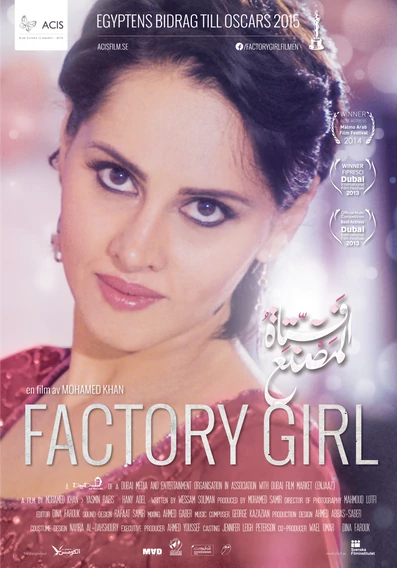 Synopsis
Hiyam är en ung fabriksarbeterska från den lägre medelklassen i Kairo. Hon är helt uppslukad av Salah, fabrikens nya chef, som flörtar med henne under arbetstid. Hiyam hoppas att kärleken kan övervinna klasskillnaderna mellan dem. När ett graviditetstest hittas i fabriken vänder sig Hiyams vänner och familj emot henne. Hiyam vägrar att försvara sig mot anklagelserna, samtidigt som hela hennes värld rämnar och hon blir offer för ett samhälle som inte tolererar självständiga kvinnor.
Factory Girl var Egyptens Oscarbidrag 2014. Filmen hade internationell premiär på Dubai International Film Festival 2013, där huvudpersonen Yasmin Raeis tilldelades priset för Bästa skådespelerska. Filmen vann även FRIPRESCI-priset (The International Federation of Film Critics) för Bästa arabiska långfilm.
Filmfakta
Originaltitel: Fatat El Masnaa
Land: Egypten, Förenade Arabemiraten
Regi: Mohamed Khan
Manus: Wessam Soliman
Producent: Mohamed Samir
Roller: Yasmin Raeis, Hani Adel, Salwa Mohamed Ali, Salwa Khattab
Kategori: Spelfilm, Långfilm
Produktionsår: 2013
Längd: 92 minuter
Premiärdatum: 2015-04-24
Om regissören
Mohamed Khan föddes i Egypten år 1942. Han blev en av de mest framträdande regissörerna under den egyptiska realismfilmrörelsen i 80-talet. Hans filmografi består av filmerna MISSING PERSON (1984), WIFE OF AN IMPORTANT PERSON (1987), DREAMS OF HIND AND CAMILIA (1988) and SUPERMARKET (1989), m.fl.