Awards
Solitaire wins the City of Malmö´s audience award, and Ali, The Goat and Ibrahim scoops best feature film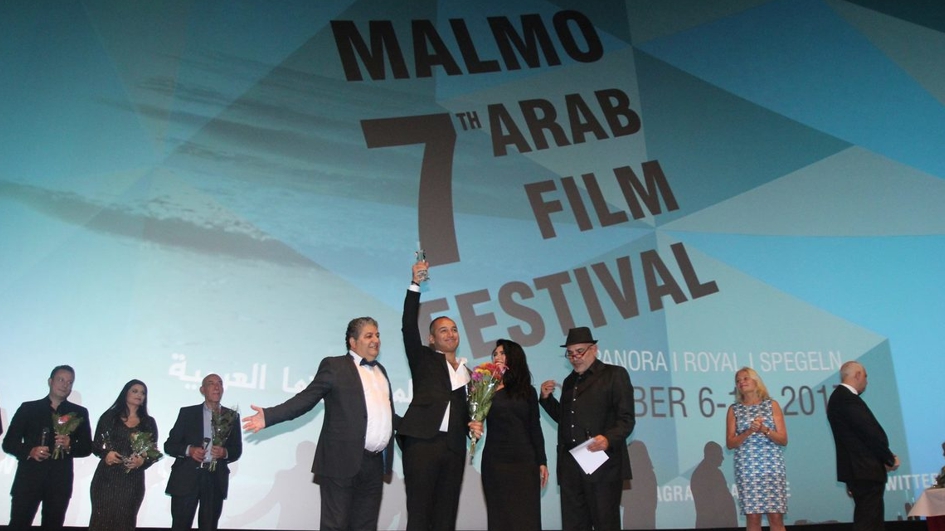 October 10, 2017: The 7th edition of the Malmö Arab Film Festival 2017 (MAFF) has come to a close after a spectacular five-day event that touched international audiences from Sweden, Arab countries, and other parts of the world. With some of the Arab world's most critically acclaimed filmmakers, actors and celebrities in attendance, the region's most prominent film festival stole the hearts of passionate audiences with an array of screenings, galas, performances and red-carpet experiences.
On the closing day of the Festival, MAFF announced the winners of several awards at a ceremony that took place at Royal Cinema in Malmö, followed by a screening of the Egyptian film Clash by Mohamad Diab.
Short and long Documentary competitions:
The jury for the short and long documentary categories, Egyptian cinema critic Tarek Elshinnawi, Kuwaiti cinema critic Abdul Sattar Naji, and Lebanese director Diala Kashmar, announced the following winners:
Best director of short documentary was awarded to Iraqi director Rania M. Tawfik, who received 5000 SEK (500 EUR), for her short documentary An Ode To Daddy.
Best short documentary went to Palestinian director Mahdi Fleifel, who was awarded 10,000 SEK (1000 EUR) for his short documentary A Man Returned.
Long Documentary competition:
Syrian director Alfouz Tanjour was awarded the prize for best director of long documentary for his film Memory In Khaki.
The documentary Little Eagles by Egyptian director Mohamed Rashad, was awarded 15,000 SEK (1500 EUR) for best long documentary.
Lebanese director Hadi Zakak received a special jury award for his long documentary 140 Wrinkles.
Feature Film and Short Film competitions:
The jury for the feature and short film categories, award-winning Jordanian actress Saba Mubarak, Palestinian screen writer and director Rashid Masharawi, and the director of Luxor African Film Festival and scriptwriter Sayed Fouad, chose the following films for this year's prizes:
Short Film competition:
Special mention for the short film Five O'clock by Iraqi director Ayman Al-Shatri.
Jordanian directors Amjad Al Rasheed and Darin J. Sallam received a special jury award of 5000 SEK (500 EUR) for their short film The Parrot.
Best short film went to Syrian director Amro Ali, who received 10,000 SEK (1000 EUR) for his film Coma.
Feature film competition:
Best soundtrack award went to Peyman Yazdanian for the Film Only Men Go To The Grave by the Emirati director Abdulla Al Kaabi.
Johan Holmquist won the best director of photography award for Beauty And The Dogs by Tunisian director Kaouther Ben Hania.
Best actor was awarded to Azelarab Kaghat for The Search Of The Lostby Moroccan director Mohammed Ahed Bensouda
Anissa Daoud won best actress for her role in Burning Hope by the Tunisian director Lotfi Achour.
Best screenwriter was awarded to Tunisian director and screenwriter Kaouther Ben Hania for her film Beauty And The Dogs.
Tunisian director Lotfi Achour won the best director award for Burning Hope.
Best feature film, accompanied by a 20,000 SEK (2000 EUR) cash prize, went to Egyptian director Sharif Bandari for Ali, The Goat And Ibrahim.
The Audience Award:
The City of Malmö´s new audience award of 25,000 SEK (2500 EUR) went to the Lebanese director Sophie Boutros for her film Solitaire.